.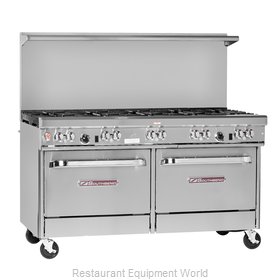 .


* Photo may include
optional accessories or
alternate configuration
.
Southbend 4601DD-2RR 60" Range with Raised Griddle/Broiler
Item #SOU-4601DD-2RR (Ask a Question - LIVE)
List Price: $8732.00 ea (save 51%)
Your Price: Only $4322.34 ea

REWards Rebate: -$129.67 ea Cash Back!

This item is being advertised and sold in compliance with the manufacturer's Minimum Advertised Price restrictions. As a thank you for choosing to purchase this item from our company, we are giving you REWards rebate dollars which are paid to you directly by OUR company (NOT by the manufacturer). Simply add the item to your shopping cart to calculate your savings. You can find out more about the REWards program by clicking here.
Range, 60" Restaurant, Gas, (6) 32,000 BTU open burners, 24" griddle/broiler (right), two 27" deep standard ovens, stainless front, sides & backsplash, with single deck backshelf
There is a FULL SPEC SHEET and additional image(s) of this product available. To view this detailed product information, CLICK HERE.

(This site is also owned and operated by Restaurant Equipment World™)
Product Details:
Brand: Southbend
REW Item #: SOU-4601DD-2RR
Mfg Item #: 4601DD-2RR
Min Order Qty: ea
Weight: 901
Status: Standard Item - Typically ships within 24 hours

Related Items:
More Shopping Choices:
- Show all Southbend brand items
- Show all Cooking Equipment category items

.


---
Southbend
Authorized
Dealer
---
All Products
Backed by Our