.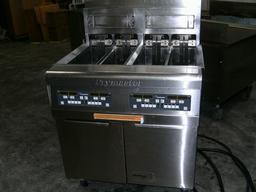 .
Frymaster BIPH214-4CSD Electric Fryer
Item #U-00304-1752 (Ask a Question)
List Price: $14000 ea (save 83%)
Your Price: Only

$2400.00 ea
Consists of two Frymaster RE14's, their description (separately) is thus: Fryer, Dual Deep Fat, Electric, heavy duty floor model, 25-lb. capacity per pot, with solid-state electronic controls, stainless pot, door and cabinet, EnerLogic Technology, with 7kw each side, ENERGY STARŪ - Electric - Dim: 31 L x 31.2 W x 45.3 H
Related Videos:



Product Details:
Brand: Frymaster
REW Item #: U-00304-1752
Mfg Item #: BIPH214-4CSD
Min Order Qty: ea
Weight: 400
Status: Standard REW In-stock Item - Typically ships within 24 hours
Serial Number: SN063MT028

.


---
This Item
Backed by Our