Frequently Asked Questions
Need some help?
We aim to please. If you have any questions beyond those that are frequently asked, feel free to contact us by email at sales@rewonline.com or phone toll-free at 1-800-821-9153. You can also chat with us!
How Long Have You Been in Business?
Our company has been providing high quality service to the restaurant industry for more than 40 years. In our 40 year history, our company has successfully completed thousands of projects throughout the world and in 1996, made the leap onto the internet — an industry first.
Our customer base is now comprised of over 56,000 customers and stretches throughout all 50 states and more than 98 countries internationally. Building long-term relationships with our customers is expensive — much more so than simply employing order takers to handle your account. We strive to provide each of our customers with a more personal level of service regardless of cost. The end results, including customer loyalty and satisfaction, are well worth the added expense and effort involved in our method of business.
We are a family-owned and operated business and treat our customers as we would one of our own. We would like to welcome you as the newest member of Restaurant Equipment World™ family.
Do you have a physical location?
Yes! We have over 45,000 square feet of restaurant equipment and supplies located at 2413 N. Forsyth Road, Orlando, Florida. We've been in the same location for over twenty years, and although our warehouse and office space has grown to accommodate our customers, our mission to provide the best service and competitive prices has remained unchanged.
Our Cash n' Carry showroom features thousands of restaurant equipment products ranging from kitchen smallwares to larger commercial kitchen items - all available for purchase and to take home immediately. Whether you're just browsing or are looking to fully stock your kitchen, feel free to stop by and see us. Our knowledgeable staff is ready to assist you with any purchase, large or small.
Our showroom hours are:
8:30 a.m. to 5:30 p.m. Monday through Friday
10:00 a.m. to 2:00 p.m. on Saturday
In our offices, our customer service representatives are available to answer all of your questions regarding our products and services. We also feature shipping, web-development, and contract departments to serve even your most unique needs.
Our Dubai location is by appointment only as it is a professional office with no public showroom available at this time.
We like nothing more than assisting our customers - whether it's online, in person, or over the phone.
How secure is your site?
Restaurant Equipment World was one of the first in the industry to make the leap onto the internet. In 1996 our current company President Brad Pierce, created our e-commerce division and website. Since then, our reputation has hinged on keeping your information safe — and continues to do so today. We employ a 256-bit encrypted connection via VeriSign™. Essentially, this means that your information is protected when traveling from your computer to our servers. We pride ourselves on security, integrity, and confidentiality.
So how can you tell if a site is secure?
When you are in the shopping cart, but before you put in any credit card information, check to see that "https://" is in your browser's address bar. Because the majority of a site does not need to be secure, it may not show up until right before you enter sensitive information. Additionally, there should be a closed lock or other way to tell how it is secured — ideally, it should be through a TLS 1.0 (or higher) 256-bit encrypted connection.
Google Chrome:

Mozilla Firefox:

Microsoft Internet Explorer:

Information does not only need to be transferred securely, but stored securely as well. At REW, customer's credit card information is stored in an encrypted offline server, far from the prying eyes of those who may want to acquire it for malicious intents. Our servers are PCI (Payment Card Industry) compliant and undergo routine security audits. We also utilize numerous firewalls, both hardware and software, and an intrusion detection system. All portable company laptops are fully encrypted and physical security encludes HID Access Credentially card security.
Website security is our utmost priority. If you have any questions regarding our security, please don't hesitate to contact us.
Do you have a satisfaction guarantee?
We are dedicated to providing our customers with 100% satisfaction, guaranteed.
We feel that the best way to build long and lasting relationships is to provide customers with reasonable and fair prices coupled with the highest quality of service in the industry. If we ever fail to meet your expectations, please contact us. Our Customer Service Representatives will make every attempt possible to meet, and beat, your highest expectations. In the unfortunate event that you're unsatisfied with the performance of a product purchased, we'll be happy to facilitate communication between yourself and the manufacturer so that your needs can be addressed in accordance with their warranty policy.
We thank you for doing business with our company and look forward to serving you and your equipment needs!
What is your privacy policy?
We know that privacy is very important to you when sharing information online. It's of the utmost importance to us as well. That's why we will never sell, rent, lease or otherwise distribute your personal information to third parties (unless required for credit card verification or by court order). Period.
Restaurant Equipment World, and the network of sites owned by us, collect visitor data and analyze our traffic so we can understand customer interests and improve our customer experience. We never collect personally identifiable information without your permission.
In the case of ordering a product, we will ask for as much information as we need to be able to contact you regarding the shipment and payment of your product. This includes:
Your name
Company name (if any)
Phone number
Fax number (if any)
Email address
Billing address
Mailing address (if different than billing address)
Delivery type (commercial or residential)
The information collected is used exclusively to ship you your order and contact you regarding that shipment. All of the information you give us upon checkout is transferred and stored securely to protect the loss, misuse, and alteration of information under our control.
After completing an order, you will be contacted with information about the fulfillment of that order. We will not use your email for further communications, unless you join our email list. If you do opt-in, you can opt-out at any time.
A complete privacy policy can be found here. If you have any questions regarding your privacy, feel free to contact us at any time.
How do I order a product?
We carry over 500,000 products on our website. We've created the "REX Restaurant Equipment Search Engine" to allow filtering of these items. Filtering is done using any combination of keywords, categories, brands and price ranges. In addition, when a specific category is selected you will see a group of specific attributes associated with that category. For instance, if you select the category "refrigerator", the "REX Restaurant Equipment Search Engine" will also filter to show associated subcategories such as vendors that carry refrigerators, specific price ranges, and finally attributes related to refrigerators (ex. exterior finish, interior finish, refrigeration type, size, type of doors, etc).
Once you find the product you are looking for in the search you can purchase the product through REW's secure shopping cart.
I can't find a product. Help!
Don't panic!
Our Customer Service Representatives are available Monday through Saturday to answer your questions and assist you in finding the products you need.
Monday through Friday: 8:00 a.m. to 5:30 p.m. EST
Saturday: 10:00 a.m. to 2:00 p.m. EST
You can contact our customer service representatives via email, chat, or phone.
Just need a little direction to find a product on your own? You can use the search in the sidebar, or browse any of our 300+ restaurant equipment sites.
Can I pick up merchandise at your showroom?
Absolutely! Our Cash & Carry showroom is located in Orlando, Florida. We have a full selection of merchandise available for purchase ranging from small wares to large equipment. If we don't have a product at our showroom, but have it online, we will be glad to contact the manufacturer regarding shipping it to your location.
Not in the area? We extend the same shipping discounts that we receive from third party carriers to you. Search our website for great deals on the same products we have in our physical store — and many, many more.
Are your prices the lowest?
For every product we sell, we will meet or beat any legitimate advertised price from an established foodservice equipment dealer for the identical in-stock item. We research our competitors frequently and are confident that you'll always find the best price for quality restaurant equipment by shopping with us.
If you find a lower price, simply contact us and we'll match the price, or offer to sell it to you at our cost if the item is being advertised below standard dealer cost. Please contact a customer service representative for more details.
What taxes are charged?
Sales tax is charged to Florida residents only. We are not licensed nor required to collect sales tax for items shipping to other states. You may, however, be required to pay sales or use tax directly to your home state. If you are a tax-exempt organization residing in Florida, please contact us so that we can take your information and ensure that taxes won't be charged.
How do you determine shipping costs?
FREE Shipping Items
We offer FREE Shipping inside the contiguous US on most of our items priced over $250 ($250 is based on the item's total price before tax, discount and any other fees). FREE Shipping does not include Liftgate Charges and/or Residential surcharges.
Note: Customers are responsible for any outbound and return shipping costs incurred with all FREE freight orders.
Exclusions include but are not limited to:
Furniture
Walk-ins
Hoods
China/Glass items
Select Sinks
Select High-density items
Non-FREE Shipping Items
For all non-free shipping items, the shipping rate are calculated automatically at the checkout screen. Shipping costs are determined by the size and weight of the product, it's destination, and the shipping carrier used. We strive to accurately determine shipping costs; if you feel like you are being overcharged for shipping, feel free to contact us regarding the issue and we will do a manual calculation to ensure you are receiving the lowest shipping rate. There are some cases in which we don't calculate shipping costs: flat rate shipping or free shipping may be offered by the manufacturer; in these cases we pass the savings directly to you.
What are REWards?
The REWards program is simply a way to say "Thank You" for shopping with Restaurant Equipment World. On some products, we give instant rebate dollars that are paid to you directly by our company (not by the manufacturer).
What do you have to do to get the REWards? It's simple — add the product to your cart and the savings will be automatically calculated. No coupons to clip, no codes to add, and best of all, you know exactly how much we are giving you in REWards right in the REX Restaurant Equipment Search Engine's results.
Here's an example of how REWards will look in the search results:

Not all of our products have REWards instant rebates, but if you're looking for deals, we send them monthly to all of our customers that join our mailing list.
How soon will I receive my order?
All orders are processed within 24 hours of receipt, excluding weekends and holidays. Orders placed before 5:00 p.m. each day are processed that same day. Most items are in-stock at our main warehouse or are available for immediate shipment directly from the manufacturer. These orders are shipped within 24 hours. Occasionally however, items may be back-ordered due to manufacturer delays or other circumstances beyond our control. A customer service representative will contact you if a back-order situation occurs to determine if you would like to proceed with your order.
Shipping Map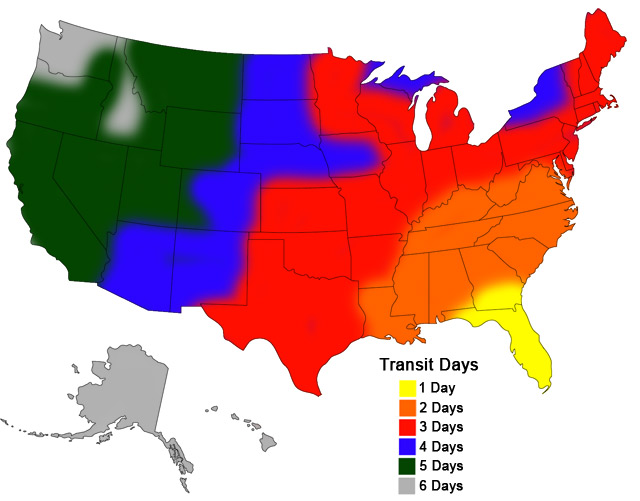 This map represents approximate shipping times for standard ground from time of shipment. Ocassionally, shipping delays on the part of the carrier may increase delivery time. Expediated shipping for items without free or flat-rate shipping can be selected in-cart at additional cost.
Can I track my order?
Definitely! After you place your order with us, you will recieve an order tracking number. You can instantly check the status of your order by clicking the "Account" button in the header.
What's your return policy?
We offer a fair and simple return policy for equipment and supplies purchased from our company. This policy has allowed us to continue to provide high quality products and services to our customers for more than 40 years. Essentially, you can return a product within 30 days with a 15% minimum restocking fee, although some limitations do exist. Click here to see our full return policy.
Do you offer installation?
Yes. We have a highly skilled team of restaurant equipment installers available to assist you. We have installed restaurant equipment in kitchens through the US and the world. Project installations have ranged in size and scope from small mom and pop restaurants to large facilities in some of the most remote and dangerous regions of the world.
Since each project is unique, please contact us for more information.
More About Us ...
About REW
Why Buy From Us?
What We do
Our History
Our Website
Government & Military
GSA Contract Schedule
AFNAF NPA
Newsroom
Media Kit
Industrial Equipment
Employment
New Vendor
Financing
Capabilities Statement
---
FAQ
Terms & Conditions
Site Map
Contact Us