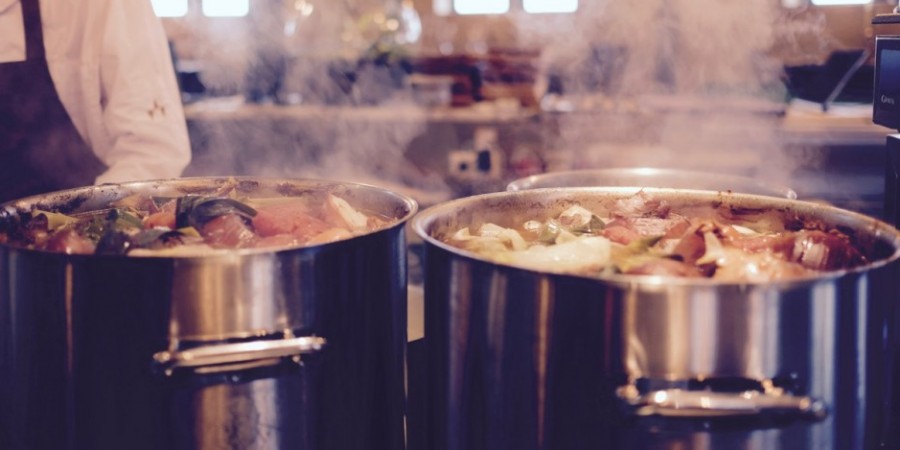 10/09/2019
Read 2129 times
-
2.85
/ 5 Based on

68

Votes
-
23 min
Cookware Overview
Pots and pans are fundamental to most foodservice operations. Some of the most important things to consider when picking out your cookware is what are you cooking? In addition, are you using induction equipment in your kitchen? These two questions will determine what size and style of cookware you will need. Here are some quick tips to consider when going through these products. Stainless steel handles are stronger and will remain cooler than aluminum ones. Riveted handles are much sturdier than welded handles. Lastly, many pans come with heat resistant silicone grips for safely but removable grips are easier to clean, replace and are more versatile than coated ones. Below are all the products offered in this category. 

1. Fry Pans: Fry pans are flat bottom pans typically used for searing, frying, sautéing, braising and poaching. Copper frying pans have even been used in ancient Mesopotamia dating back to 3rd century B.C. Most are 8 to 12 inches in diameter but you can find them in both smaller and larger diameter. Whenever possible, it is a good idea to cook with the lid on. This helps food cook faster while also reducing the amount of energy required to complete the cooking process.

2. Brazier Pans: These are great for browning meant, vegetables and simmering over low heat. They are perfect for giving your food that appetizing golden brown look. With brazier pans, you can slow cook your vegetables or meat with a minimum amount of liquid to maximize flavor perfection. This type of cooking is idea when the goal is to create tender juice results.

3. Stock Pot: A stock pot gets its name from the purpose it was designed for. It is traditionally used to make stock or broth, which can be the basis for cooking meals that are more complex. It features a flat bottom, straight sides, and a wide opening at the top. Stock or broth is often steamed for severs hours while adding meat, fish, or vegetables. This slow simmering process transfers flavors, colors and nutrients between them creating the broth or stock. These pots are used for cooking stews, porridge, boiling food, and steaming. They are available in large sizes making them good commercial cooking equipment.

4. Sauce Pan: The difference between a sauce pan and a sauce pot is. Sauce pans feature one long handle opposed to two small carrying handles on a sauce pot. This is a great piece of cookware for accomplishing many tasks. They are able to slowly cook your stews, vegetables, and pasta over a long period of time. Having one long extended handle makes it easier for stirring or beating.

5. Sauce Pot: With sauce pots, you are able to slowly cook your stews, pasta, sauces, and soups. The main difference between a sauce pot and a sauce pan is with sauce pots they feature two small carrying handles on the outside of the pot. Making it easier to carry a heavy pot loaded up with food. These pots are specifically built for this purpose. They are shorter and wider in design allowing for more surface area, which is better than a traditional stock pot for cooking liquid recipes. They feature high heat tolerances making them versatile in any commercial restaurant.

6. Cookware Sets: This is a great solution when you need kitchen equipment cookware. We can help you take the headache out of piecing together a cooking set by offering you one already put together with all the essential items. With these sets you can accomplish almost any cooking task.

7. Egg and Fish Poachers: We offer product to poach a single to multiple eggs at one time. Multiple egg poaching options are great for restaurants or buffets. Fish poachers are durable in design, are built to be long lasting, and would work well in a commercial kitchen. They feature everything you need to get started. One of the benefits to poaching fish is it allows you to retain its flavors and vitamins making it a healthy way to cook fish without drying it out.

8. Sauté Pans: These are similar to a frying pan but sauté pans will sometimes have a less flared vertical side. While they can be used like a frying pan, it is designed for low heat cooking methods. One of the benefits of having the less flared vertical side is this makes it easier when trying to jump, bounce, or toss the food while cooking.

9. Assorted Covers: Did you know if you cover your food while cooking it can save you time by cooking it faster and uses less energy too. We offer covers in all different materials, shapes, and sizes. Whether you need a replacement cover for your cookware, need extras in your kitchen or wanting a new cover for your existing cookware, we carry one for you.

10. Double Boiler: These are common pieces of kitchen equipment, but many people do not know about them. This type of kitchen equipment can gently heat, or keep food warm over a long period of time. These excel in cooking delicate foods like sauces, chocolates, custards, or melting butter. Double boilers work by using a two part cooking pot. One pot is set inside the other. Steam from hot water in the bottom pot heats the top pot this cooks or melts your food. Make sure the top pot is resting above the water otherwise; it can cause your product to curdle or scorch.

11. Bain Marie Pot: These work similar to a double broiler. They are a cooking container filled with water in which another pot is placed in order to cook food slowly. The benefit of a bain marie is you can slowly heat your food without causing it to burn. With a bain marie pot the pan or dish that contains the food is put directly into the hot water bath. Some of the common foods cooked using a bain marie pot are cheesecake, custard, and crème brûlée.

12. Paella Pans: Paella pans are wide and shallow with sloping sides to create maximum surface area this allows liquids to evaporate and form as much crispy golden crust on the bottom as possible. This feature helps the rice cook evenly and develop an intense flavor. You're not only limited to cooking paella with one of these pans they are also great for cooking anything that requires a wide, flat surface. You can use it for searing steaks, fish filets, chicken cutlets, or even as a griddle for pancakes, bacon and other breakfast items. It even works well over a camp fire.

13. Corn Stick Pans: You can use these to make an alternative to muffins or cornbread in a pan. Just as the name implies you can make corn bread in the shape of ears of corn. This is a fun and alternative way to make a traditional classic dish. They go great with soups, stews, and chili. The cast iron construction helps the pan cook evenly without hot spots.

14. Woks, Wok Covers, and Wok Rings: If you want to get serious about Chinese cooking then you may want to consider getting a wok. They feature many advantages over a frying pan. It distributes heat more evenly, requires less oil, and helps food that is being tossed during stir frying land back in the pan and not on the stovetop. Classic woks have a rounded bottom these will most likely require a wok ring to keep it in place while cooking depending on your application. They are also offered in flat bottoms as well for cooking on electric stoves.

15. Crepe Pans: Forget all the stress induced by trying to make the perfect crepe on a griddle with one of our crepe pans. They are specifically designed to help you make light, thin, flat crepes. They feature a smooth bottom for even heat transfer and low walls to make it convenient to flip the thinnest crepes. You can also use them to cook a variety of other foods.

16. Omelet Pans: Everyone loves a good breakfast and omelet pans can be considered one of the most important cooking utensils when making an omelet. Omelet pans are designed to help you more efficiently cook an omelet. They often feature hard aluminum or stainless steel construction, which allows equal heat distribution. They usually come with a flat bottom allowing prepares to cook eggs on medium to high heat without burring them. They generally have slopping sides, which helps guide the omelet when it is being moved in the pan making it easier to flip and swirl. Lastly, they often feature a non-stick surface this makes the release of the omelet easier and reduces the risk of tearing.

17. Dutch Ovens: Almost any cooking task can be performed with a dutch oven. Many people consider it an all-purpose cookware. You can use dutch ovens for soups, stews, roasting, frying, casseroles, and making bread. They are able to cook at high heat. The ovenproof lid helps retain moisture and prevents drying out food over long cooking times. They are perfect for slow roasting vegetables or meats. You can even use a dutch oven for deep-frying.

18. Steamer Basket / Boiler Sets: Steaming is a cooking technique where hot steam is used to conduct heat into the food while the food does not come in contact with the water. There are many benefits in steaming your food. There is no need to add fats or oils this keeps your meals healthy and reduces the number of calories consumed. Steamed food retains more of its vitamins and softens the fibers of vegetables and fruits, making them easily digestible. Steaming also helps food retain its original structure and colors making them look more appetizing. You can also cook fruits, meat, and starches with a steamer. Steamers allow you to cook a variety of food at once saving you time this also saves on energy.

19. Tajine: A Tajine is a cooking pot that has been used for centuries. Tajine dishes are not fried they also use minimal oils for a healthier dinner option. Meals cooked in a tajine offer a unique earthly flavor, which you cannot get in a regular pot or pan. You are able to serve your food in the same dish in it is cooked. Dishes cooked in a tajine can be easily throw together they often include readily available ingredients. Tajine are simple and functional that can help you create an exotic meal.

20. Pressure Cooker: While pressure cookers have been around for a long time, some people are still reluctant to use one. Today's pressure cookers are much different many feature built in safety features like safety valves to prevent excess build up, and locking lids that will not open until the pressure is released. Their are many benefits in using a pressure cooker. Food retains most of its nutrients and reduces cooking time. Pressure cookers can reduce cooking time by as much as 70%. This can help you save on energy. Pressure cookers also keep your kitchen cooler because it retains the heat and steam. Less cleaning is also required because of the secure lid this prevents any splashes from escaping.

21. Grill Stoves: With grill stove tabletops you are able to replace your old units or upgrade your existing. You are able to place these around burners making them more appealing to the eye. With a grill stove you can display your dishes with style. They work great as a catering supply because you can keep your food warm with a burner underneath while it sits on a table ready to be served. These are also great for camping because of how light and portable they are. 

22. Griddle pans: One of the biggest benefits of using a griddle pan is the large flat cooking surface. This allows for more food to be cooked at once, compared to other pans. This is beneficial when cooking food that is served in batches such as pancakes, burgers, kabobs, etc. You are also able to cook a large quantity of food at once. Ones that feature ridges allow fat to flow off the meat instead of a burger just sitting there boiling in its own juices. With ridges, it leaves those satisfying little black grill marks. We also offer flat griddles for those wanted to make foods like pancakes and eggs. Some griddles are even reversible with one side being flat and the other having ridges. Most pans are heavy and distribute heat evenly.

23. Pot Pan Handle Grip: When removing a hot pan from the stove or oven the handle itself can be scorching hot enough to burn your hand. Even afterwards, handles can maintain heat for an extended period of time. To protect your hands consider a handle grip. One of the big advantages of a removable grip opposed to a fixed insulated handle is that you can put your cookware in a hot oven (after you have taken the grip off) without worrying about damaging the handle. Removable grips can be used on multiple cookware with handles. Rubber and silicone grips are both dishwasher safe and will retain their appearance after multiple uses and washes.

24. Fry Pots: These help you create crispy fried foods. These are a great alternative to kitchens wanting to offer fried food without the expenses of a deep fryer. They are the perfect size for backyard cooking, tailgating, camping and more. You are also able to simmer, boil, and steam using these pots. With its deep design, it is excellent for cooking soups, stews, gumbo, and jambalaya. You are able to cook inside on the stovetop or outside on a propane burner.

We are here to help; Restaurant Equipment World is family owed and operated for over 40 years. We have experienced representatives available at your service. To help you choose the right cookware based on your needs and budget.

Contact us...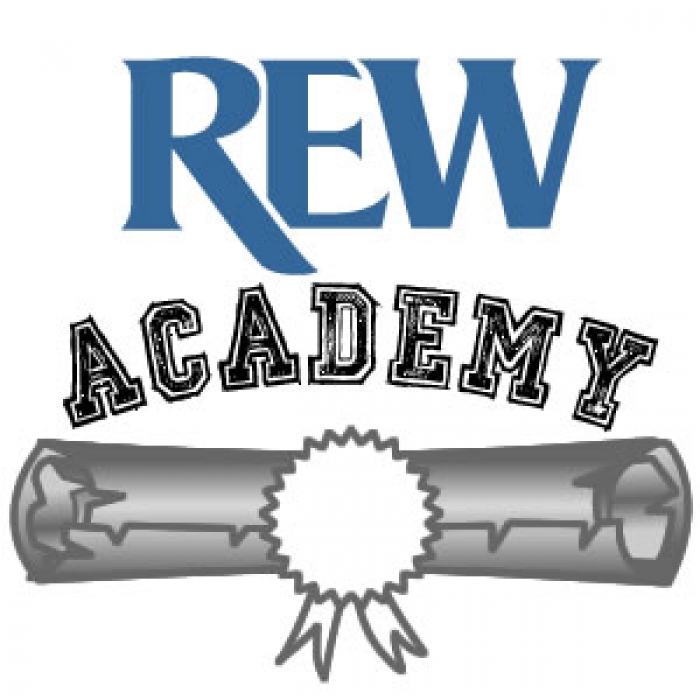 See this Category in our Website
Categories:
Articles
REW Academy
Website Categories

Published by:
Sean Karpowicz
sean.karpowicz@rewonline.com
REWrite Blog