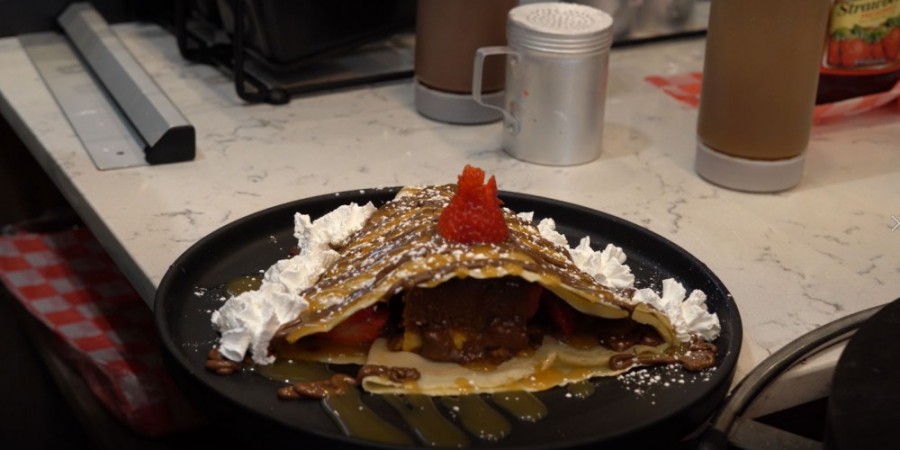 02/28/2020
Read 1370 times
-
2.91
/ 5 Based on

66

Votes
-
5 min
Restaurant Equipment World (REW) Visits Crepe Delicious
Welcome to Restaurant Equipment World's restaurant review. Today's special is Crepe Delicious.

This urban café features inviting décor throughout the building, while featuring a delightful atmosphere and customer service. Crepe Delicious is a Canadian franchise that has been expanding rapidly. Orlando, FL is proud to be the home of the first Crepe Delicious located in the U.S. Crepe Delicious can help you satisfy your craving for anything savory or sweet.

Just like you may have guessed from their name, they serve crepes. However, they also offer delicious teas, coffee, paninis, waffles, sundaes, gelato milkshakes and more. Start your visit with one of their most popular pastries, Harissa it's imported from Egypt and exclusive only to this location. Harissa is a popular choice to sweeten coffee, or you can eat it by itself. It offers a similar texture to corn bread, but is sweet in flavor.

Follow up your main course with one of their most popular crepes, the Tuttie Fruittie. It will help you satisfy your sweet tooth. It's made with a combination of Nutella spread, strawberries, and bananas. You can even add cheesecake, caramel, and whipped cream, to experience a variety of sweet flavors. You can order your crepe, sit down by the kitchen, and watch your creation come to life through the glass. Your food will arrive at your table, aesthetically pleasing, tempting you to take that first bite. It's a unique experience that you can only get at Crepe Delicious. 

Sit back, enjoy your crepe, and sip on their highly requested Sage tea. This herb is imported from Jordan and exclusive to this Crepe Delicious location. It will leave you feeling refreshed, due to its health benefits.

Finish your visit with one of their sundaes or milkshakes. Their gelato is made in house. You can even get a monstrous eight scoops of gelato with a collection of toppings, called Godzilla, which you can share with your friends. All of the ingredients at Crepe Delicious are cut fresh daily. You will not be disappointed with the number of options. The portion sizes are generous and you will truly enjoy having leftovers to take home with you.

Crepe Delicious is open from 8:00 am to 10:00 pm, Monday through Friday, and 9:00 am to 10:00 pm, Saturday and Sunday. They currently have one location located at 55 W. Church St., Orlando, FL 32801. Check out their full menu at https://www.crepedelicious.com or give them a call at (407) 704-1414 to hear about their specials. Follow Crepe Delicious on Facebook @CrepeDiliciousOrlandoFlorida, Instagram @CrepeDeliciousOrlando.Leen, and look them up on Twitter and Youtube. 

Crepe Delicious is a great addition to the Orlando area. They have a strong passion for what they do. With options from breakfast to dessert, and everything in between, you should stop by. You will be glad you did. 


Categories:
Restaurants
Food
Interviews

Published by:
Sean Karpowicz
sean.karpowicz@rewonline.com
REWrite Blog