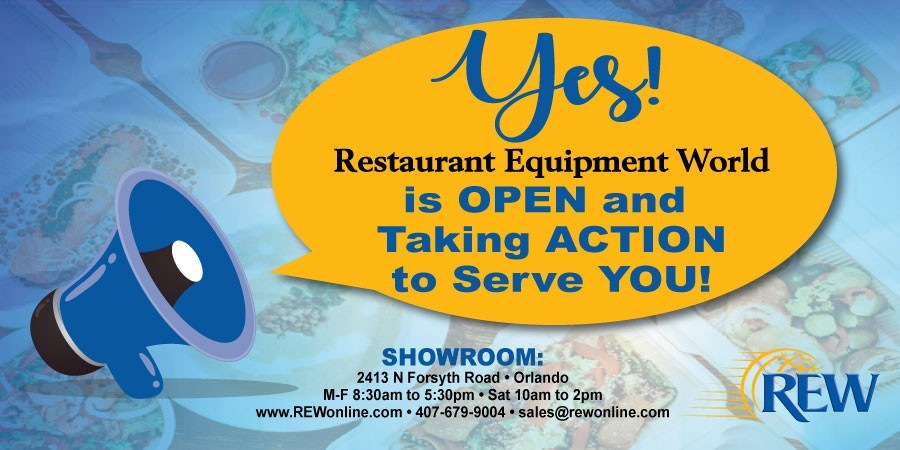 03/20/2020
Read 1843 times
-
2.91
/ 5 Based on

66

Votes
-
25 min
Restaurant Equipment World (REW) is OPEN and Taking ACTION to Serve YOU!
We've all received dozens of cut-and-paste COVID-19 boiler plate communications, THIS ONE IS DIFFERENT - it outlines ACTIONABLE items we are taking to serve you during this unprecedented time and is WORTH READING. Below are the steps we're taking to serve our valued customers who depend on us as a supplier partner for your restaurant operations.


FREE Local Deliveries: Local Central Florida Deliveries of smallwares/supplies are NOW FREE until at least April 1st. We understand that you may have staffing shortages, so will bring your order to you. We simply ask that you purchase at least $50 in items to qualify for this service. Our team members and/or commercial logistics firm will deliver items right to your restaurant door. We will change disposable gloves prior to each delivery.
FREE Custom Supply Order Portal/App:

 

We are now opening up our REW EXPRESS custom tailored supply web portal and iOS/Android app to ALL CUSTOMERS. This system is typically reserved for our large multi-unit operators and military/government customers - but now is COMPLETELY FREE to use and will be populated with your specific supply items. E-mail us your smallwares/equipment list (or we can can pull it from your order history), and we'll get you set up quickly. This will save you valuable TIME in ensuring replenishment orders can be placed extremely QUICKLY and EASILY.
FULLY STOCKED Disposables / To-Go Items:

 

We are FULLY STOCKED with a wide assortment of DISPOSABLES (for to-go, carry-out and delivery needs such as food containers), chemicals, janitorial/sanitation supplies, food carriers and other essential supplies. We have pallets of TOILET PAPER en-route to our warehouse and will be manufacturing HAND SANITIZER (expected to be available next week). For a complete list of the disposable jan/san items we carry, please visit:

 

https://www.rewonline.com/disposables_cleaning.html

 

. Note, we recommend you CALL your sales rep to verify quantities on hand before coming in - we are running through our stock at a rapid pace, yet also have a continuous replenishment of pallets arriving frequently.
OUTDOOR Warehouse Order Pickup:

 

You can now phone in your order and call us when you arrive for OUTDOOR PICKUP if you prefer not to enter our showroom. A friendly associate will greet you at your car wearing fresh gloves to deliver your order. You'll need to show the credit card used to place your order along with valid ID, but this process will be made quickly and easily.
BEST PRICING is Locked in Place:

 

As always, we're COMMITTED to always providing items at the lowest possible prices to you. You entrust us to treat you fairly and this pandemic is no exception, we will ALWAYS work hard to DO THE RIGHT thing and will not raise pricing beyond our current markup from manufacturer costs.
CLEAN SHOWROOM and Facilities:

 

We are CLEANING EVERYTHING on a continual basis. This includes customer touch-point areas and staffing/warehouse areas as well. We've always prided ourselves on having one of the cleanest, most organized cash and carry facilities in the industry and will continue our best practices to ensure a SAFE and CLEAN shopping experience.
TEAM Member Health:

 

Our team members are 100% HEALTHY and stand ready to serve you. While we have full REMOTE working capabilities and contingency plans in place, we have not needed to exercise these measures at this time. We remain FULLY OPEN to serve you and your restaurant's needs - delivering on-time, every time, without delays or excuses.
MASSIVE Website Featuring ALL Items: Our website at

 

www.REWonline.com

 

features more than 425,000 items complete with pictures and detailed specification sheets. We've spent over 20 years developing our online infrastructure and are the largest and best source in the industry for every large equipment and smallwares item needed in restaurants.
CDC Guidelines: It goes without saying that we are following ALL CDC GUIDELINES, but we'll re-iterate it here. The health and safety of our team members, valued customers and vendor partners is of utmost importance and we are following all sanitation and health guidelines provided by official government sources.




For more than 44 years, our valued customers have been the cornerstone of our continued success and WE APPRECIATE YOU. We know this is a challenging time for your operations and we stand ready to serve you in every way possible as we work together to overcome this pandemic. Our team members are fully engaged and will do everything in our power to help our customers while working diligently to stay safe and continue operations. The restaurant business is challenging during routine times, this event multiplies the challenge exponentially, yet I know restaurateurs are some of the hardest working and most resilient people in the country. Know for certain, your friends at Restaurant Equipment World are committed to standing strong alongside you as a partner in your recovery and success. Together, we will get through this situation and not only survive, but thrive in the years ahead. THANK YOU for being a valued customer, it's because of your loyalty that we are here to serve you today and we are extremely grateful for your business.
Please feel free to contact us at

 

sales@REWonline.com

 

or call us at

 

407-679-9004

 

or

 

800-821-9153

 

anytime to speak with a friendly and knowledgeable team member, we love our customers and look forward to speaking with you.
Restaurant Equipment World
Categories:
Kitchen
Restaurants
REW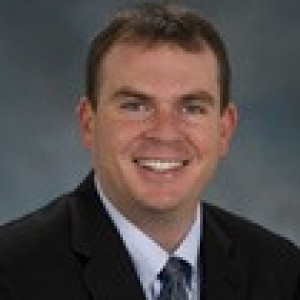 Published by:
Brad Pierce
REWrite Blog