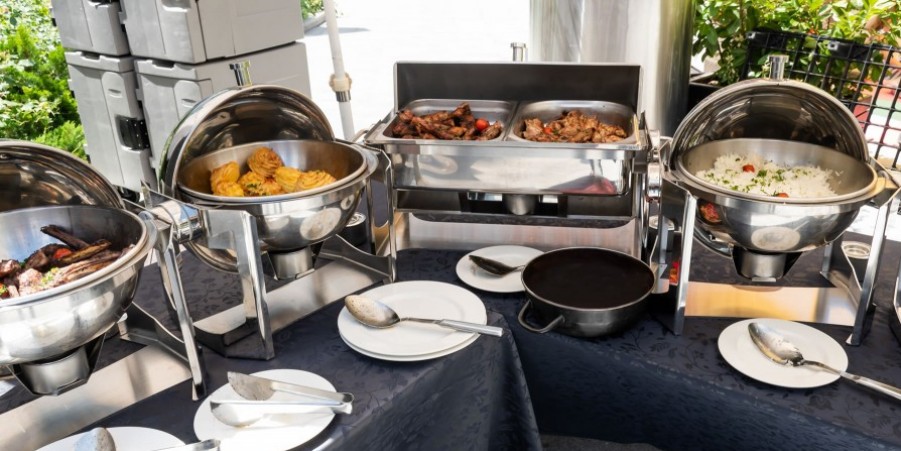 04/23/2021
Read 1030 times
-
2.91
/ 5 Based on

66

Votes
-
5 min
Display Stands, Risers, and Portable Sneeze Guards
We understand that in the restaurant business, appearances are everything and neatness always counts. To that end, we are dedicated to providing quality display and protection options for buffets, restaurants, and other food services. Take a look at the selections we have in store:


Display Stands for Portable Cooktops:
Portable cooking is an asset for large gatherings, being able to keep food fresh and warm while also being convenient enough to set up, maintain, and store. At REW, we have what you need to cook and display wherever you go.

These display stands come in a number of styles. Grill tops are perfect for showcasing burger patties, hot dogs, steaks, and any number of grill and barbecue delights. Or, perhaps you need one of our aluminum-cast griddles or plates, which are perfect for serving hot dishes and maintaining their temperature. We also carry stands with built-in fuel holders that are suited for parties and buffet lines alike.

Display Stands:
Our assortment of intricate display stands gives you unique and interesting ways to display your menu items. Tiered and pedestal-type stands make for eye-catching displays when your customers are taking in the sights of your establishment. There are even different shape options as well; our spiral-shaped stands from American Metalcraft add even more flair to your display choices.

Perhaps you want your china, plates, and bowls to be on a rack instead of stacked together in a cupboard. We sell stands for that as well! Just like our other offerings, our stands from Cal-Mil, Intermetro, and other vendors provide efficient and organized ways to store or display.

Display Risers:
For multiple or large meal displays, you'll have to go big. Give those heavy plates and portions adequate support with one of our handy display risers. Whether you pick one made with aluminum, bamboo, glass, or stainless steel, our display risers are sturdy and reliable enough to properly showcase heavy items.

The display risers come in a variety of styles, from thin, wireframe prisms to thicker, cube-shaped risers. Each riser possesses a unique materiality and shape that can conform to or complement particular aesthetic styles.

Sneeze Guards:
Cleanliness is important for every establishment, be it a buffet, cafeteria, or full-on restaurant. And here at REW, we have you—and your food—covered. You can choose from a wide range of guards with such features as adjustable shields, so that you have complete control of how your food is protected. If you want to keep harmful materials and germs out at all costs, our Bon Chef selections offer complete, 360-degree shielding.

Our sneeze guards are perfectly portable for easy storage and movement. Additionally, they are made with materials that are easy to clean. Whichever make and size you require, our guards are reliable, simple, and above all invaluable to keeping your station as clean as can be.


Restaurant Equipment World is the best choice for shopping stands, risers, and sneeze guards. We offer professional services that can give you advice based on budget and need. Call our helpful staff today and get to browsing!


See this Category in our Website
Categories:
REW
REW Academy
Website Categories

Published by:
Christian Dantes
christian.dantes@rewonline.com
REWrite Blog