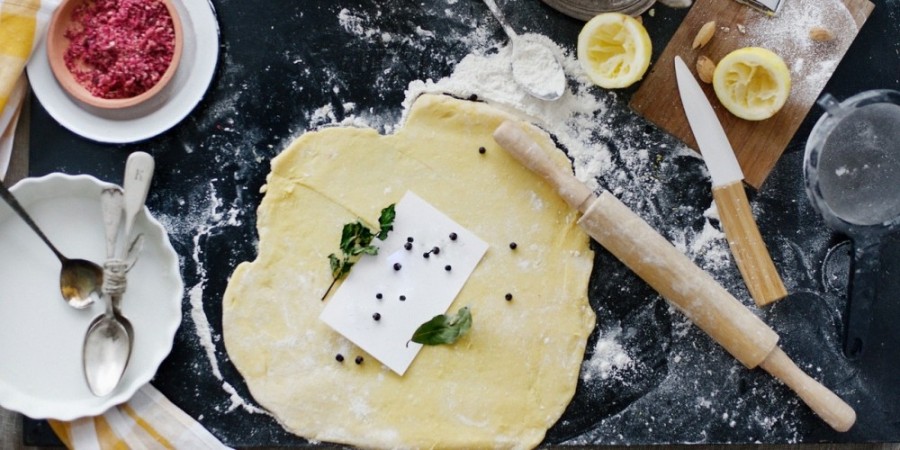 11/15/2019
Read 2809 times
-
2.91
/ 5 Based on

66

Votes
-
22 min
Food Prep Overview
Food preparation is just as important as any step in the creation of food. It is important because it affects the customer experience. What is meant by that is it plays a role in how someone feels when he or she comes to your establishment. Many products in the category listed below can have an effect on safety, the required prep time, and the quality of the product. All these parts play a role from when someone places their order to how they feel after a meal. You can create the best customer experience possible to keep them coming back. Restaurant Equipment World offers a large selection collection of food prep equipment to help you find the right product for you to maximize that customer experience. 

1. Commercial Slicers: You will typically find these at delis, butcher shops, food stores, supermarkets, sandwich shops, sub and pizza shops, and military kitchens. Slicers have been traditionally used for prepping meat, cheeses, and vegetables. They're many benefits when it comes to using a slicer. For chefs and restaurants that want portion control and consistency, this is a great option because it allows you to put a whole cooked prime rib on a slicer, set it to the thickness desired to give you a consistent cut in thickness from plate to plate. This is especially helpful for schools, institutions, large cafeterias, and the military because slicing deli meats for sandwiches and salads is less expensive and allows for better portion control than buying pre-sliced cold cuts. While more labor is involved, unsliced deli meats have a longer shelf life.

2. Commercial Mixers: When looking at mixers you have a couple of choices such as a Vertical mixer (or Planetary Mixer) which is the most popular and versatile choice for most applications or you may want to choose a Spiral Mixer this is better for high volume "dough only" applications. Vertical Mixers feature a dough arm that spins and rotates around a stationary bowl. While Spiral Mixers feature a dough arm that spins in a fixed position while the bowl rotates beneath it. Vertical mixers work well. However, if you are going to be mixing a high volume of dough then a Spiral Mixer would be better because it develops dough faster and at a lower temperature.


You can use the chart below as a reference for the size of the mixer you need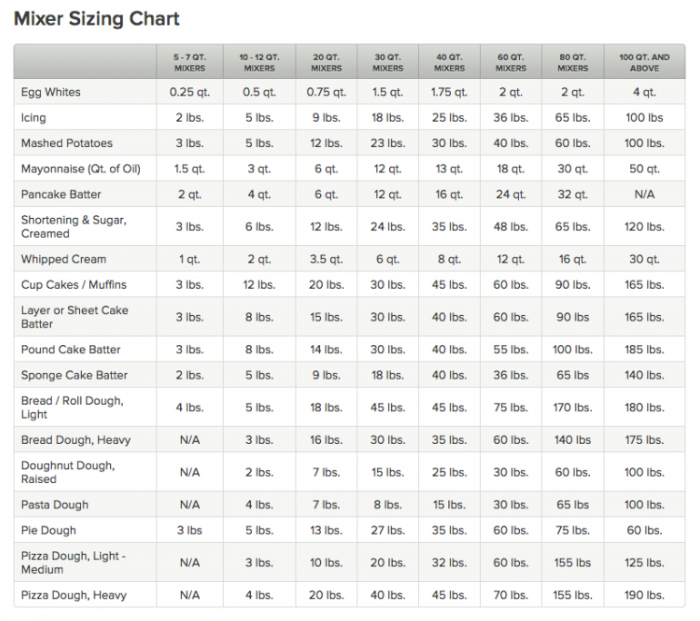 3. Food Processors: When considering a food processor there are two basic types. Bowl type food processors also known as a bowl batch processor and then they're continuous feed processors. To tell the difference Bowl type food processors come with a round flat- bottomed bowl, mounted on top of a motor housing. These include a top that must be in place during operation for safety and to prevent splatter. Continuous feed processors are not as versatile, but process high volumes of produce. 

Bowl types are common due to being one of the most versatile pieces of prep equipment in the kitchen. These units are great for puree soups and sauces you can chop raw meat and nuts, blend dry or wet ingredients, and even knead dough and whip cream. You can change out the blades for cutting up vegetables too. Continuous feed for processors can drastically shorten prep time for operations that process a large amount of produce. These are excellent for vegetables such as slicing cucumbers, dicing carrots, ripple cut potatoes, and confetti vegetables for garnishing plates. 

4. Professional Scales: Professional kitchens need a portion scale to measure ingredients, measure portions, and monitor serving sizes. These procedures help prevent waste and lead to consistency in servings as well as customer service. Most mechanical scales are dishwasher safe or have platforms that can be removed and washer. Even some electronic scales are submersible and are dishwasher safe. When deciding between electronic or mechanical scales electronic ones are easier to read and provide immediate results for fast processing of portions. While mechanical scales require no wires or batteries these are generally the best choice for budget-minded buyers.

5. Can Openers:  What have you been using to open your cans and have you been happy with it? This question can help you determine whether it is a good ideal for a replacement purchase, to upgrade, or get an additional unit. Knives and gears on a can opener usually last between 2,500 to 5,000 cans. Manual can openers are excellent for low volume use but when you need to crank out the volume of cans and electric can opener is an excellent choice for medium-duty use. Crown Punches are designed for high volume uses. Manual can openers open about 2 to 3 cans per minute. Electric can openers are ideal due to their easy operation and can do about 4 to 7 cans per minute. Crown punch openers can due 8 to 12 cans per minute for high volume applications.

6. Vacuum Sealers and Food Packaging: Vacuum-sealed products can last up to 3 to 5 times longer than non-packaged food. Reducing food waste and spoilage is important to all foodservice operations. Not only will your food last longer but they will taste fresher because you are removing most of the factors that cause them to break down. These machines come in two different variations Chamber vacuum sealers and external vacuum sealers. Chamber sealers are best for when you are doing a lot of sealing, working with large batches or sealing liquids. They give you better performance and versatility. External vacuum sealers are excellent if you are only doing occasional sealing, and if you are not sealing liquids. They cost less than a chamber machine and provide a great seal but lack the versatility and performance of a chamber unit.

7. Fruit, Vegetable and Salad Preparation: This category includes a huge variety of items, but some of the bigger categories are potatoes prep, tomato prep, fruit and vegetable wedges, mandolins and parts and accessories for slicers and cutters. You will be able to create things from beautiful salads to tempting French fries. Not only do these units save you time during the preparation process, but they can also reduce the amount of manual labor required from your employees. Many of these machines feature blade guards so you can cut safe for you and your staff, this reduces the risk of injuries. Another popular product is our salad dryers, lets face it no one enjoys a soggy salad. These allow you to serve a large number of salads while keeping them fresh and crisp after washing them. They can help you cut done on prep time required by speeding up the process. 

8. Cheese Prep: Some establishments such as pizzerias, deli's, sub shops and Mexican eateries tend to use a lot of cheese over time. As a result, this can cause cutters to wear out. If your equipment is getting worn out, wobbly, not cutting easy or getting jammed. Then you should check for broken parts. By having a spare cheese cutter or replacement parts readily available you will be able to repair or replace your unit and eliminate downtime. Eliminating downtime can result in a happier customer and quicker plating process.

9. Food Cutters: These high-performance bowl cutters are an excellent choice for your deli, grocery store, or high volume establishment. We offer different power ranges including heavy-duty cutters so you can cut dense foods. You can make a wide variety of foods with this machine some common dishes are sausages, coleslaw, and dip. This machine is also known as a buffalo chopper or a bowl cutter. Because of their large bowl and sharp blades, they are great for shredding and mixing.

10. Seafood Preparation: Our seafood preparation tools will help you and your guest open shells with minimal effort. Have you ever tried opening a crabs shell without a seafood cracker before? It can be a pain. We carry lobster crackers to fish scalpers and more these tools will simplify preparation for your kitchen staff. Eating seafood usually comes with a lot of work, but by using our seafood preparation tools this can be an easier process. If you are hosting a seafood party,  or if seafood is part of your typical diet then shell crackers are a perfect tool to keep handy.

11. Sugar Candy Making Tools: You can use sugar candy making tools to add some distinction to your brand. You will be able to create candy for specialty drinks or desserts. Wow, you guest with sugary creations of your own to keep them coming back for repeat business. We offer products that allow you to cut large quantities of fudge or cake into bricks in a single perfect precise slice. We also carry sugar tools that allow you to create beautiful brown sugar art or decorations for pastries.

12. Dough Prep: If you operate a pizzeria, bakery, or deli is category is a must. You will be able to create perfectly shaped loaves, rolls, and pizza crust. With dough sheeters, rounders and dividers you can create pie crust, bread, and buns faster this will save you time and help you keep up with a busy demand. Whether you own a pizza establishment or a bakery, having the right dough prep equipment can help you increase your productivity resulting in greater customer satisfaction and higher profits for your business. Another popular piece of restaurant equipment is a dough press. These allow you to flatten the dough into perfect circles, presses can save you time because you will not have to spin dough by hand to stretch it out. You just simply load the plate with a ball of dough, pull down on the lever and flatten it. This process can be quite fun and satisfying.

13. Bread slicer:  Some of the benefits you can notice when you start using bread slicers are cut down on prep time, increased efficiency and a boost in your overall profits these are just to name a few. Many of them are easy to operate allowing any member of your staff to be efficient with this restaurant equipment. Any member will be able to retrieve freshly sliced bread. The people who would benefit from these the most would be bakeries, specialty sandwich shops, hotels, diners, and cafes. Because of the size, countertop bread slicers do not take up much size in the kitchen. Slicing bread does not have to be hard while also running the risk of an accident. With a bread slicer, you will be able to slice in a single motion. Another popular item we carry is bagel slicers. These can help your staff slice bagels in half even quicker while also reducing the chance of an injury. Bagel cutters are excellent especially for the morning rush when you need to prep a large number of bagels in a short time.

14. Pasta Preparation: We carry a variety of pasta machines from manual machines to floor-length models for commercial restaurants. These pasta machines are perfect for pizzerias, Italian restaurants, or pierogi stands. You will be able to make homemade pasta in custom flavors and styles with a noodle maker. With a pasta machines, you are also able to adjust the thickness of your noodles, so you can make long-cut ziti, ribbon-cut lasagna noodles, or short-cut macaroni tubes. This ability allows you to create what you want and make something that stands out.

15. Meat Preparation: Make the production of high-quality meat with our large selection of meat preparation equipment. We can help make large-scale meat preparation easy without a selection of grinders, sausage stuffers, presses, and more. Commercial meat grinders are necessary when you want to process large amounts of meat at one time. Whether you own a butcher shop or a restaurant, having the right meat preparation equipment will help you fill large volumes of orders and provide quality products to the customers. We carry a large selection of meat grinder attachments to make easy work of large tasks without having to sacrifice on the quality of the meat.

16. Blade Assemblies: We carry a wide selection of blade assemblies to help you customize your food processor. Spare blades are great to keep around for when yours get dull. You can switch out the dull blade with a fresh sharp one to help keep up with production or even get a separate blade for the same machine to use for the different types of meat you process. You can maximize the performance and versatility of your processor with having additional blades. Pick form slicing, or shredding to find the right option for the type of cut you want. 

We are here to help. Restaurant Equipment World is family owned and operated. We have experienced representatives available at your service. To help you choose the right food prep equipment based on your needs and budget.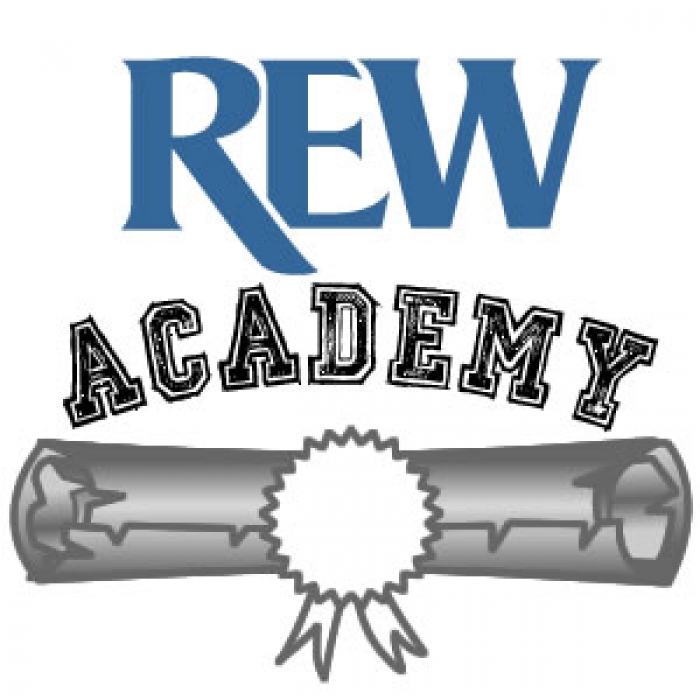 See this Category in our Website
Categories:
Articles
REW Academy
Website Categories

Published by:
Sean Karpowicz
sean.karpowicz@rewonline.com
REWrite Blog