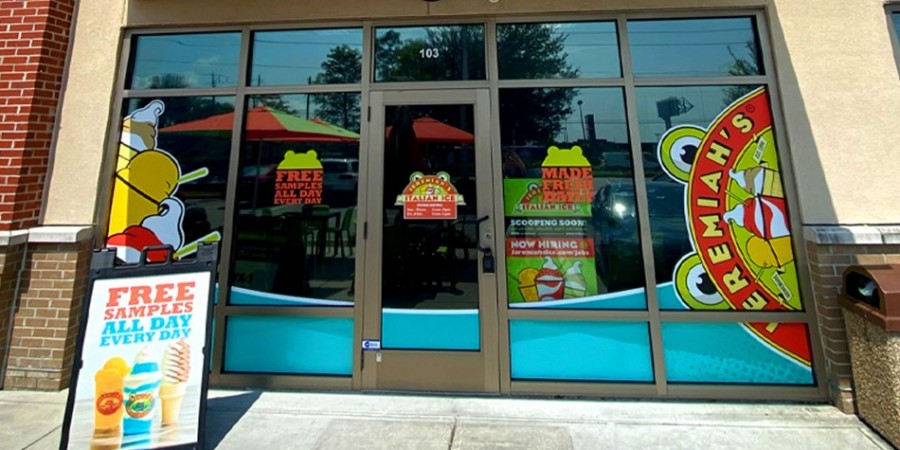 07/30/2021
Read 274 times
-
3.07
/ 5 Based on

62

Votes
-
8 min
A Walk On The Froggy Side: The Franchising Feats of Jeremiah's Italian Ice
It's summertime in Florida: a time for hitting the beach, the plazas, the malls, and more. Being outside, however, means dealing with the infamous Florida heat. Surviving it is a matter of hats, lots of drinks, and in some cases, cold treats.

There are many ways to keep cool, but only one Florida-based business empowers customers to Live Life to the Coolest.

From their inception to today, Jeremiah's Italian Ice has delivered delicious, one-of-a-kind frozen delights. I spoke with Devin Schneider, the Director of Brand Development, about what separates the Jeremiah's brand from other Italian Ice chains and shops and how Jeremiah's continues to grow.

"All of our tasty treats are refreshing and fun with a 'WOW' factor offered at a reasonable price point, but ultimately we've carved a niche with our Live Life to the Coolest culture, the flavorful experiences we deliver to our communities, and our signature Gelati—the perfect layering of smooth Italian Ice with our rich and creamy Soft Ice Cream," Schneider said.

The idea of a Cookies & Cream flavored Italian Ice layered with Vanilla Soft Ice Cream in a signature Gelati already paints Jeremiah's as a brand that is bold, original, and full of passion. But perhaps the boldest things about Jeremiah's is its attractive franchise offering, which launched in 2019 and continued successfully throughout 2020 and 2021, even in spite of tough socio-economic challenges.

So, the million-dollar question: how did Jeremiah's overcome those hurdles?

"We've spent 25+ years streamlining our systems," Schneider said. "We just launched Franchising in 2019 and this delay was intentional, as it was important that we take the time to refine our systems and ensure we could deliver our Franchisees the most extensive playbook we could for success with our tasty treats."

And you'd better believe that playbook is refined. Jeremiah's currently boasts 47 locations throughout Florida, Arizona, Texas, and Georgia. And with more than 190 franchise unit agreements signed, there's been no shortage of individuals who are chomping at the bit to join the Jeremiah's Frog Squad.

Part of the success of the Jeremiah's franchising playbook can be traced back to engagement. For Jeremiah's, that word means so much more than advertisements or commercials; it means something greater.

"Embracing our local communities," Schneider clarified. "Working hand in hand with schools, churches, and local businesses ensures we're contributing to our neighborhoods and that we become more than just a frozen treat!"

The brand strategy is all about connections, about building real relationships, rapport, and consumer trust. Jeremiah's reminds us all of how important it is to engage with consumers not just through online platforms—as important and prevalent as those are—but also through real-world interaction. The company is committed to implementing the latter in its marketing plan.

"We are able to actively participate in the lives of those in our community and be a part of the good memories they form," Schneider said. "It's always our goal to become a community hub and a neighborhood hang-out wherever we open."

Social media, loyalty programs, and community outreach are the prongs of a truly customer-first vision that has allowed the company to expand past the familiar environs of sunny Florida and bring the great taste of Jeremiah's Italian Ice to fans across the country. And speaking of taste…

"We are always looking for new ways to keep our menu and brand fresh and top of mind," Schneider stated. We're about to roll out our new Blueberry Limeade Ice and recently rolled out Layer-Ins (Oreo Cookie Crumbles, Cookie Butter Crumbles, or Hershey's Mini Chocolate Chips layered into any Jeremiah's treat) as recent examples."

For Jeremiah's, flavor and creativity pair just as well as Soft Ice Cream and Italian Ice. To match the growth of the brand thanks to franchising and new locations, Jeremiah's has continued to put time and resources toward growing the diversity of the menu. Coming up with inspired frozen treats is just another way that Jeremiah's is staying ahead of the competition while also keeping the brand fresh.

"With rapid growth, we of course have to remain nimble and quick to adapt to new challenges," Schneider added.

Jeremiah's Italian Ice is more than a company, a brand, or a franchisable name. It's a story of success, of community, and of true passion. It's a worthy ideal and example for others to emulate. Jeremiah's is—simply put—one-of-a-kind.

Only time will tell where the brand will hop to next, but you can be sure that everyone will be watching and waiting.



Categories:
Restaurants
REW
Interviews

Published by:
Christian Dantes
christian.dantes@rewonline.com
REWrite Blog