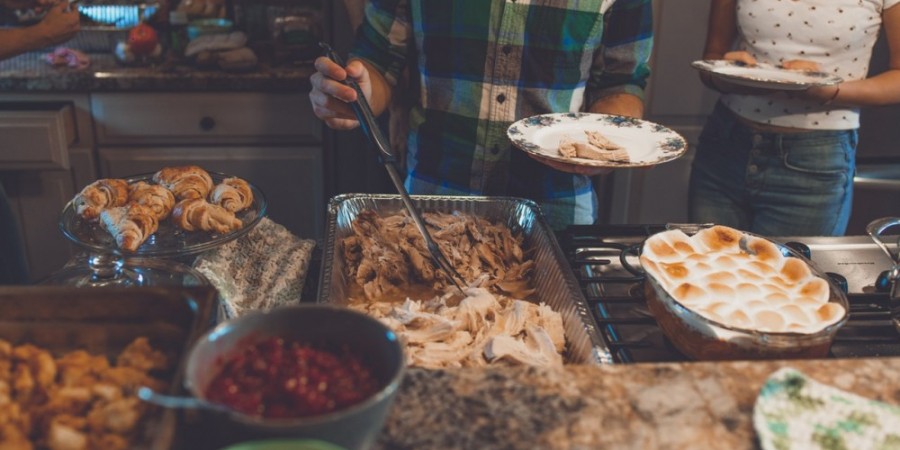 11/27/2019
Read 471 times
-
2.73
/ 5 Based on

72

Votes
-
8 min
Thanksgiving Dinner Traditions
Restaurant Equipment World is huge on family and tradition. We have been family owned and operated for over 40 years. Being in the holiday spirit we want to share with you some popular dishes and history behind Thanksgiving. No matter whether it is your first time hosting or you are a Thanksgiving dinner veteran we will cover some of the basics to make sure you have the perfect meal. A classic Thanksgiving dinner includes some old-time favorites that will never change such as turkey, gravy, cranberry sauce, stuffing, potatoes, and pie. You might eat some of the very same dishes shared by the Pilgrims and Wampanoag Indians at Plymouth in 1921, but chances are the dinner looks a bit different from what was enjoyed at "the first Thanksgiving."

A turkey is an excellent choice for the main dish. Thanksgiving and turkey are one of those things that go hand and hand together like peanut butter and jelly. To make sure your dinner is a success you want to get a turkey large enough to feed everyone and have some leftovers or yourself. One of the reason's why you will find turkeys at a Thanksgiving meal is because the birds are large enough they can feed a table full of hungry family members and unlike chickens or cows they didn't serve many purposes like laying eggs or making milk. Unlike pork, turkey was not so common that it seemed like an unsuitable choice for a special occasion either.

Not everyone is a fan of turkey for his or her Thanksgiving dinner. Many people choose a ham instead. You can supplement this for a turkey or serve as a side dish. To be honest some of us get a little tired of having turkey every year. If you are in the mood to change things up a ham is a perfect choice. A popular option is maple and brown sugar glazed ham. Hams can often require less time and effort than cooking a turkey making them great for someone piecing together a meal in a rush.

Stuffing and dressing, these two are alike but they are not the same thing. The biggest difference between the two is, stuffing is cooked inside of the bird and dressing is cooked and served separately. Their has been a growing preference for cooking a turkey with no stuffing inside. One of the reason's why this has been growing is due to the increased information about food safety. Studies show how stuffing inside a turkey can get soaked in uncooked poultry juices that may contain salmonella. There is no way of knowing whether the pilgrims served stuffing at their original harvest. However, with the abundance of both wild game and rice, the first Thanksgiving dinner likely featured some kind of bird with a rice dish alongside it.

Mashed potatoes and gravy are a favorite combination on Thanksgiving. It is one of those dishes all generations cannot wait to gobble down at a feast. While potatoes had not made it to the first Thanksgiving at Plymouth. They were introduced to North American in or shortly after 1621. Mashed potatoes became an American staple by the 1700's. Potatoes to many people are easy to grow, filling, and affordable. As far back as 1747, Americans were mashing up potatoes with butter, milk, salt, and cream to present as a dish on their Thanksgiving tables.

Cranberry sauce can be found on almost every thanksgiving table. Did you know Americans eat more than 400 million pounds of cranberries every year while 20 percent of that is consumed on the week of thanksgiving. The most basic cranberry sauce consists of cranberries in sugar water until the berries expand and thicken up, you can get other versions of cranberry sauce from a raw relish, or a can. When you add cranberries to your thanksgiving meal, you are partaking in one of the oldest Thanksgiving meal traditions. By the late 17th century, it was popular to boil cranberries with sugar. In the next century, it was discovered cranberry sauce paired well with a turkey and by 1800, it was featured on most Thanksgiving menus.

Some people consider the gravy as crucial as the turkey itself. The turkey can be a little dry and the mashed potatoes can be a little lump. However, when the flavorful, smooth gravy hits it then it does not matter anymore. Gravy can be made a couple of different ways most common are by using canned broths or stock. However, it is hard to beat the old fashion way made with flavorful drippings from a roast.

Pumpkin pie is one of my favorite parts of the holidays. This is a key element on a Thanksgiving table. Pumpkin pie is very popular in the U.S. and Canada but it rarely served in other parts of the world. The name pumpkin originated from the Greek word for "large melon" which is "pepon." They have been making it on to thanksgiving tables since at least 1621 in some form or another. Early pumpkin pies are much different from the ones served today. It was not until 1796 where a cookbook featured a recipe very similar to today's version.

When you celebrate Thanksgiving, you are sharing hundreds of years of tradition with other families around the country. From one family to another, Restaurant Equipment World is thankful for you, we want to wish you the best and happy holidays. 
Categories:
Events
Food
Articles

Published by:
Sean Karpowicz
sean.karpowicz@rewonline.com
REWrite Blog