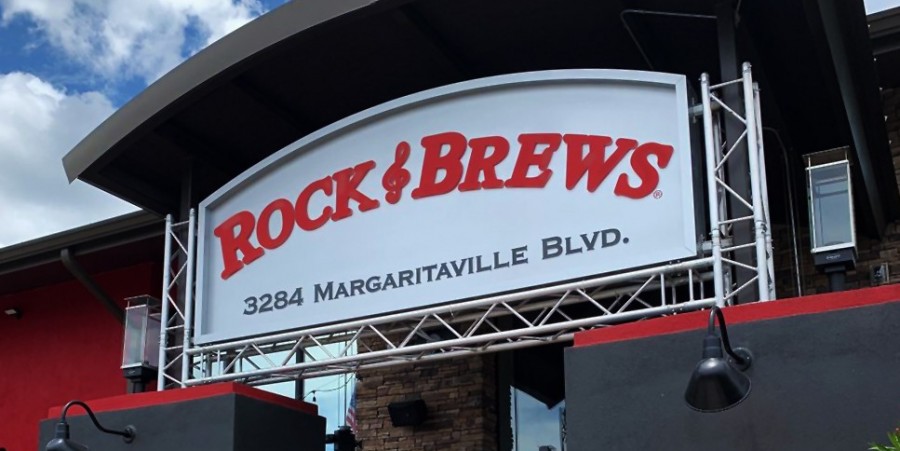 03/17/2020
Read 98 times
-
2.85
/ 5 Based on

68

Votes
-
5 min
Restaurant Equipment World (REW) Visits Rock and Brews
Welcome to Restaurant Equipment World's restaurant review. Today's special is Rock and Brews.

If you have a strong craving for American food classics with a unique take, then this is where you need to be. Rock and Brews offers a superior dining experience with a Rock 'n' Roll twist. The main elements that make up the culture of Rock and Brews are the Rock 'n' Roll music, love for craft beer, and comfort food. The combination of these three things creates an unforgettable experience.

As you walk up to the building, one of the first things you will notice is the 40ft guitar sign. As you get closer, you will hear the sound of '60s to early 2000s rock music, and the air will thicken with the smell of BBQ.

Once you walk inside, you'll be amazed by the high ceilings, Rock 'n' Roll décor, and the large bar. One of the first things that will catch your eye is the "Great Wall of Rock". This is a tribute to legendary rock icons, with concert lighting and projector screens. Take a seat inside at the bar or a table and check out all of the artwork. Or you can enjoy their large outdoor patio, which offers a bar station, lounge seating for large groups, and an assortment of games like corn hole and Jenga. You can even bring your furry friends, as Rock and Brews is pet-friendly inside and out.

Once seated, choose a drink from their large beverage menu, which offers both craft and common beer choices. With so many draft and bottled beer options, you won't be able to make it through all of them in a night. One of the best parts about Rock and Brews is the food. It's hard to beat the feeling of classic comfort food. Some of their most popular dishes include ribs, blackened chicken pasta, and wings. Alternatively, you could try the fish and chip tacos, or pizza made from artisan dough.

Once your food arrives, you will notice how generous the portion sizes are. The best part about Rock and Brews is the special feeling you get when you sit down with your food and friends. You will forget about the outside world of traffic, work, and bills. It's hard to replicate the atmosphere of the happy, free-spirit, no-worry vibes you get when you are there. It's a place to relax, listen to music, and reminisce on good memories of the past. It will be the highlight of your day, due to the great food, quality service, and the time spent with the people that matter most.

Rock and Brews is open from 11:00 am to 12:00 pm, Monday through Thursday, and 11:00 am to 1:00 am, Friday and Saturday. They currently have three locations in Florida, located in Kissimmee, Oviedo, and Orlando. They will soon be opening a fourth location in the Tampa, FL area. Check out their full menu at https://www.rockandbrews.com/ or give them a call at (407) 890-0104 to hear about their specials.

Rock and Brews in a unique experience that cannot be replicated anywhere else. The only way to get it is to go there for yourself. You should stop by. You will be glad you did.

Categories:
Restaurants
Food
Interviews

Published by:
Sean Karpowicz
sean.karpowicz@rewonline.com
REWrite Blog