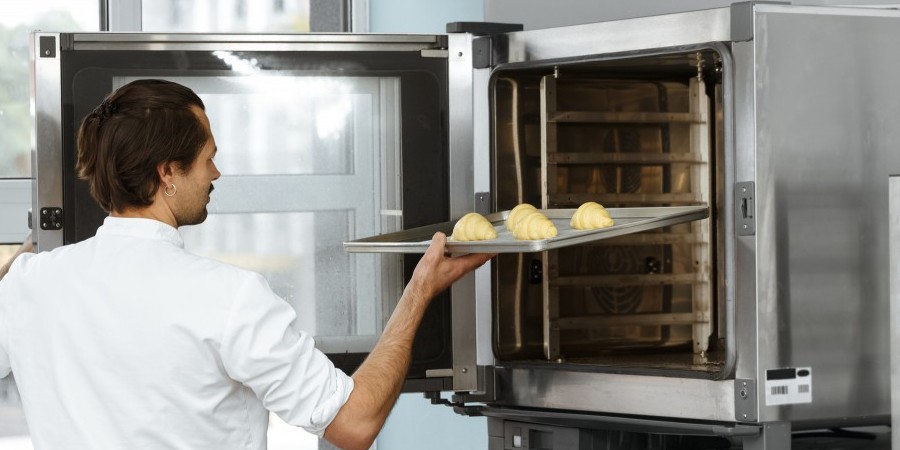 07/08/2022
Read 389 times
-
2.91
/ 5 Based on

66

Votes
-
7 min
Ovens
From pies and pastries to all manner of meats, we owe a lot to the ovens in our restaurant kitchens. But there is much more to oven-based cooking than putting food in the chamber and punching in a temperature and time. In this guide, we'll be taking a look at several different kinds of commercial ovens and the unique applications they have in your kitchen.

Microwave Ovens
Microwaves are simple to use and consume low levels of electricity compared to other oven options. They are best used to defrost or reheat, but caution should be practiced when doing so. When food is microwaved, it could potentially dehydrate, shrivel, or burst if suitable settings are not selected. Microwaves typically have different power level settings and timers to help heat food correctly without damaging or ruining it. One should also be aware that some foods are microwaved better than others; fish, for example, is so delicate that it is very easy to dry out in the microwave.

One thing that microwaves excel at is steaming vegetables. Some recommend running water over vegetables and then putting them in a bowl for heating up. The process is faster and healthier than alternatives like using oils and fats to fry the vegetables in a pan. In that respect, microwaves are great tools to expand your cooking techniques.

Convection Ovens
These ovens are unique because of the fans built into them. These fans blow hot air directly onto food, which speeds the cooking process. They also ensure that food is cooked evenly at any temperature setting.

Another benefit to owning a convection oven is their capacity. Many commercial convection ovens can hold as many as five to ten pans on average. Coupled with their time efficient cooking mechanism, this makes convection ovens invaluable allies for fast-paced service operations.

Deck Ovens
You may have seen these large units at bakeries and pizzerias. They have multiple chambers with "decks" that the food is placed onto; these decks are often made of stone. Food is heated just by being on the deck due to convection. Heat is transferred from the deck directly into the food or pan sitting on top of it.

Deck ovens can be either gas-powered or electric. For electric deck ovens, each deck can be set at its own individual temperature, giving the user the ability to bake different types of food at the same time. However, if you are worried about energy expenses, it may be better to go with a gas model. Either way, deck ovens are excellent for baking.

Conveyor Ovens
If convenience is something you need and are willing to spend for, conveyor ovens may be right up your alley. With a conveyor oven, food is basically prepared by itself thanks to the impingement system that the machine operates on. This system involves food being carried along on a conveyor belt, getting pulled into a chamber, and blasted with continuous jets of heat until the food emerges from the other end.

The size of the chambers in a conveyor oven may limit the kind of food you can prepare using this method. Additionally, the high, constant temperature may be too much for certain foods to handle. However, if you do have items that can fit those specifications, you'll find that conveyor ovens will save you time and especially effort.

Thermalizer Ovens
These ovens are also known as "cook-and-hold" ovens. They aren't powerful enough to cook food, but they can reheat and preserve food that has already been cooked. As an added bonus, thermalizer ovens preserve the moisture, nutrients, and flavor of the stored food, so you won't need to worry about overcooking or losing freshness.

Thermalizer ovens are best used for take-out or catering operations where large quantities of food need to be kept on standby before reaching customers. Using this specialized equipment can help guarantee that your customers will get to enjoy their dishes as intended, no matter how much time elapses between preparation and service.

Combi Ovens
Also known as "combination ovens," combi ovens are hybrids of other oven types. Alto-Shaam's CTC10-10G gas combi oven, for example, combines steam and convection heating. If you want to save money but also retain the flexibility to cook and bake in different ways, then a combi oven may be a wise investment. 



See this Category in our Website
Categories:
REW
REW Academy
Website Categories

Published by:
Christian Dantes
christian.dantes@rewonline.com
REWrite Blog