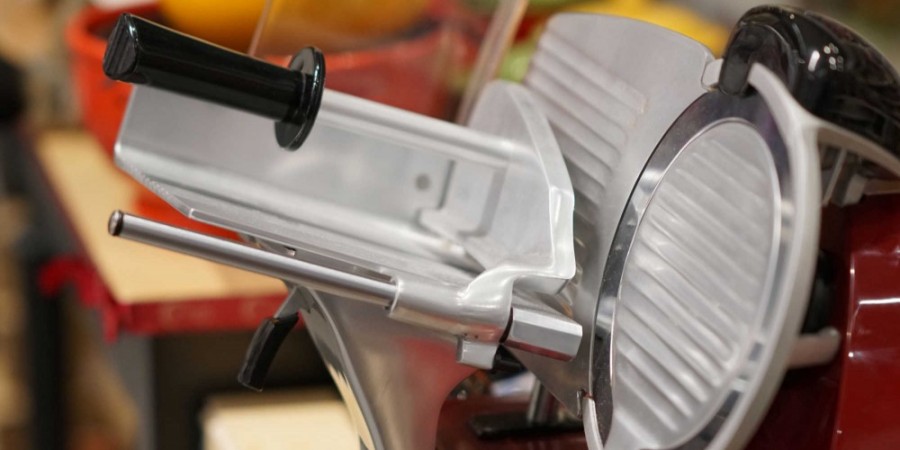 09/19/2022
Read 459 times
-
2.85
/ 5 Based on

68

Votes
-
3 min
Commercial Slicers
If meat is your business' specialty, you'd be remiss without a good slicer. It's the most efficient way to turn huge chunks of meat into portions ready for cooking. In this guide, we'll be taking a look at the ins and outs of commercial slicers.

First, how exactly do slicers work? Typically, the product is placed into the machine's carriage and secured using an adjustable clamp. There are two methods for cutting; if the machine is a manual slicer, the user moves the carriage back and forth across the metal board, with an electric-powered metal blade that slices the product as it passes by. Automatic slicers only require the user to push the product into the machine so that it can be cut. For both types, there is a dial or mechanism for specifying the thickness of the cut.

You've probably seen slicers frequently at your local deli. Unsurprisingly, slicers are designed primarily to slice meats like ham or salami with a level of speed and precision that human hands are unlikely to accomplish. However, did you also know that certain cheeses can be cut using a slicer? That's right, with the right specifications, you can turn hard cheeses into fine slices for hors d'oeuvres.

After hearing the difference between automatic and manual slicers, you may be wondering what the point of the latter is if it's more work. True, more physical effort has to be put in to use them, technically speaking. But what you may not know is that manual slicers also have an ace up their sleeves: gravity feeds. This refers to the blade's incline and, when adjusted properly, accounts for potential back strain on users who are handling the machine for long periods.

Last but certainly not least, it's important that you clean your slicer after each use, especially if you're slicing high volumes of product. This will help you maintain healthy standards in your kitchen operations. Users should also wear kitchen-grade safety gloves to protect themselves from the slicer blade.

If meats are a foundation of your foodservice operation, then a commercial slicer may just be the workhorse you've been looking for.

See this Category in our Website
Categories:
REW
REW Academy
Website Categories

Published by:
Christian Dantes
christian.dantes@rewonline.com
REWrite Blog