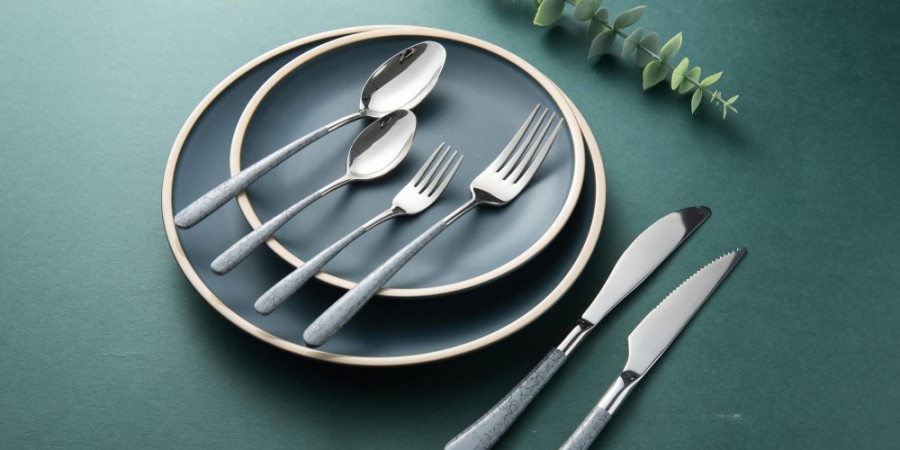 04/20/2021
Read 886 times
-
2.91
/ 5 Based on

66

Votes
-
7 min
Flatware and Steak Knives
Here at REW, you'll find a diverse variety of knives, forks, and spoons for all of your restaurant and food service needs. Our selection features several different material types and styles to fit every taste. If there is a particular aesthetic, culture, or atmosphere you are seeking to capture with your food service, our utensil offerings can help you. Below is a small sample of the utensils we provide:


Spoons and Forks:
From the smoothness and sleekness of Windsor to elegant seashell texturing, there is a utensil set for every occasion. Our store carries a multitude of spoons and forks optimized for entrees, soups, salads, and desserts.

Maybe you want something that fits dinners of both the casual and the formal variety. If so, look no further than our Royal assortment. Crafted with polished stainless steel, these utensils are reliable and timeless. Royal silverware adds dazzle to any dinner table, making your meals truly special.

For those with Asian cuisine needs, we have you covered too. We sell wonton spoons in different shapes and sizes, perfect for Japanese miso, Vietnamese pho, and other kinds of Asian soups or stews. Each one is made of melamine, making it not only sturdy and durable, but also easy to clean as well. You will also find plenty of colors and designs to choose from, further expanding the customizability of your Asian dining.

From our warehouse to your tabletop, our spoons and forks are sure to make mealtime memorable.

Dinner and Steak Knives:
For any establishment with meats and more, knives are essential for tableware. No matter what your menu or restaurant may look like, there is sure to be a knife or two that complements it. Whether you want them pointed or rounded, there's no shortage of blade styles to choose from as well. We have knives for steak, chicken, fish, and even desserts

Do you want knives that match the rest of the silverware? Our American Metalcraft and Bon Chef selections are likely choices for you. Both vendors make knives with stainless steel handles, perfect for meshing in with the gleam and mirror polish of other stainless steel utensils. Just like those other tableware settings, both American Metalcraft and Bon Chef are great choices for fine dining.

Of course, we would be remiss to forget about the classic steakhouse setting. For a more contemporary or modern steakhouse look, we sell plastic handle knives to fit the here and now. If it's a down-to-earth atmosphere you're looking for, our wooden handle knives will fulfill your needs with excellent craftsmanship and a hearth-like feel.

Whichever way you slice it, REW's selection of knives is the cutting edge of quality and functionality.

Serving Utensils:
When you're dining with friends, family, or co-workers, there's always a need for big dishes—and big utensils to help fill everyone's plate. At REW, we have just the serving utensils you need to make large gatherings happy!

Match the earthiness of salad and greens with our wooden serving utensils from Alegacy Foodservice and Tablecraft. These spoon and fork sets make it easy to mix and serve, and with their finely crafted wooden design, they evoke that nostalgic feeling of wholesome get-togethers. They are also perfectly durable and are sure to be long-lasting staples of your establishment.

A party of guests may have something heavier than salad in mind, which is why you should come prepared with our metal offerings. We have serving spoons ranging from 10 to 21 inches in length. Each one is made with stainless steel and comes in various types. There are contoured spoons for easily lifting and cradling food to your plate. Our serving utensils also come perforated or solid, depending on what kind of entrée or side needs to be served.

Shop around our website for these great serving utensils and serve up some smiles!


Restaurant Equipment World is here to fulfill your flatware/tableware needs, with quality service and representatives to help you in your decision making process. We can help you choose your equipment according to budget and needs.


See this Category in our Website
Categories:
REW
REW Academy
Website Categories

Published by:
Christian Dantes
christian.dantes@rewonline.com
REWrite Blog