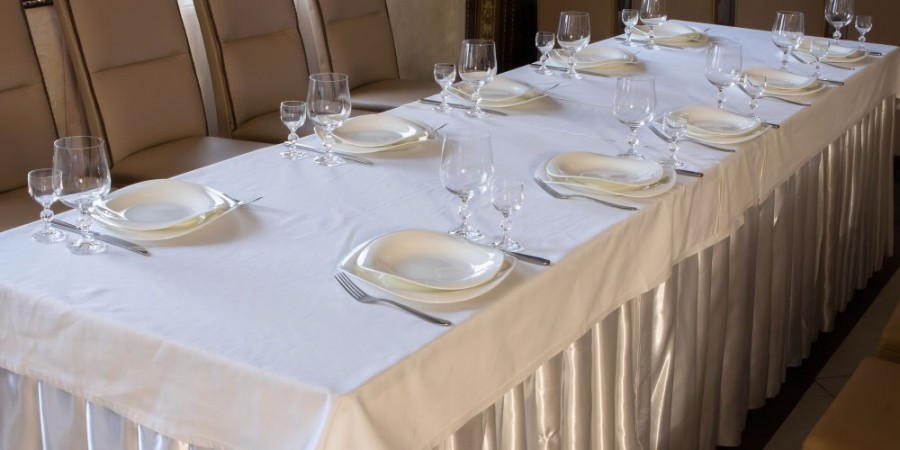 06/01/2021
Read 803 times
-
2.91
/ 5 Based on

66

Votes
-
5 min
Linens and Table Covers
The appearance of the tables in a restaurant communicates quality, competence, and uniqueness to the restaurant's guests. At REW, we understand that you want your décor and aesthetic choices to really sell your restaurant to potential and returning customers. Have a look at our selection of linens and table covers below:


Table Skirts:
Table skirts are as fashionable as they are functional. In addition to hiding the table legs and keeping the focus on what's on top of the table, they can be used to conceal items and objects stored beneath the table. In fact, our skirts from Marko even come with storage hangers just for that very reason.

Our table skirts come in pleated and un-pleated, with various choices for the former kind. You can choose skirts that fit any table shape or size. We can also promise that they're durable; our aforementioned Marko table skirts happen to be flame retardant, which can help prevent fire-related accidents from getting out of control. 

Table Cloths:
Rectangular, roll, round, or square—whatever style you may need, it's here. Our quality table cloths from Marko, Royal Industries, Winco, and Snap Drape Brands feature a diverse range of designs and colors. Our selection has enough versatility to fit any environment or aesthetic.

Our seafoam green table cloths from Marko are a great complement for earthy or bright settings. If you're searching for the old-school Italian look, check out our red-and-white checker board-style cloth from Winco. No matter what your restaurant looks like, you'll find a table cloth that fits it well.

Table, Chair, and Tray Stand Covers:
Covers are useful for protecting the surfaces of objects like tables, chairs, and tray stands. Thanks to their stretchable design, they are incredibly easy to put on and remove. They are best used for quickly covering objects and furnishings of a known size and make, and do not come off easily. Many of our covers are machine washable and dryable for convenient cleaning.

Tabletop Linens and More:
Ever considered changing up your table napkins? Then look no further than our online and physical inventory! We have both linen and paper napkins for professional or casual dining occasions. You'll find plenty of colors and designs to choose from, including festive holiday napkins for Christmas, Halloween, and other special days. Surprise your customers with eye-catching and different napkins on their tables.

If you'd like to keep your tables clean and spotless, our placemats and table paddings are here to help. These items can catch spills and messes before they tarnish or stain your surfaces and linens. Our placemats have different material options to best match your restaurant; you can pick from bamboo, plastic, or cotton. Each one is durable and large enough to keep your tables spotless and accommodate your dishes, glasses, and other tableware.


Restaurant Equipment World is the best supplier of linens, table covers, and other accessories and items for restaurant operations. Call one of our expert representatives today and get professional advice on top-of-the-line gear, tools, and more. We would love to help you make your purchase based on your budget and needs.

 

See this Category in our Website
Categories:
REW
REW Academy
Website Categories

Published by:
Christian Dantes
christian.dantes@rewonline.com
REWrite Blog