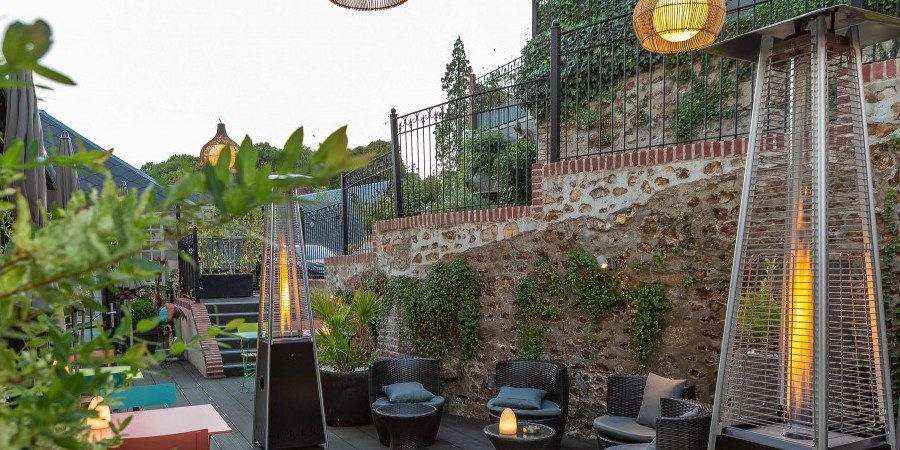 08/06/2021
Read 826 times
-
2.85
/ 5 Based on

68

Votes
-
3 min
Outdoor Heaters
The outdoors is a great place to dine, meet, and hang out. When it gets too cold, however, staying outside becomes quite the hassle. That's where outdoor heaters come in.

Wall-mounted or standing outdoor heaters are excellent tools that bring warmth to your outdoor setting and make the experience more comfortable for guests. The construction of each heater is what determines its ability to heat up an area. Single-domed standing heaters, for instance, project heat into the dome that radiates down into a single area around the heater.

Heat can be generated using electricity or propane. Propane heaters typically have a piezo electric ignition. This mechanism produces sparks that ignite the propane fuel and create heat. Electric heaters are a lot simpler—just plug the device in and switch it on to power the internal heat generator.

When buying a heater, it is important to note the differences in cost and usage. Propane heaters will cost you more than electric ones. With that being said, however, propane heaters also generally cover a greater radius and have adjustable heat output. Ultimately, choosing one type or the other comes down to the layout of whatever area they are being placed in. In a restaurant-style patio with lots of outdoor seating, for instance, propane heaters would most likely perform better.

Safety is a primary concern when using heaters. For starters, users should relocate all combustible materials away from heating units to avoid starting a fire. Additionally, standing heaters—which can reach up to 90 inches in height—require proper height accommodations and should only be put in areas with either high ceilings or no ceiling. Heaters themselves also sometimes have built-in safety features. Chef Master's Endless Summer electric heater, for example, has a safety tilt switch. This component activates whenever the unit is tilted to a certain degree or is knocked over, shutting off the flow of heat to prevent accidents.

Outdoor heaters are essentials for your outdoor experiences. Whether you choose standing, wall-mounted, electric, or propane, you can be sure that with a good heater by your side, cold nights will be a lot warmer and far more enjoyable.

See this Category in our Website
Categories:
REW
REW Academy
Website Categories

Published by:
Christian Dantes
christian.dantes@rewonline.com
REWrite Blog